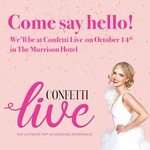 Designers:
Various
Location:
Morrison Hotel
Date/Time:
2018-10-14 at 11:30am
If you are engaged or bestie of a #bride-to-be you are invited to the most excellent day of bridieness ever! @Confettilive are hosting a very cool event in The Morrison on the 14th October, with demos, a panel of wedding experts, designers, event planners, makeup artists, stylists, everything you need for a flawless gorgeous wedding. And guess what! We will be there and are appearing on the fashion show! We will also be giving away €500 voucher!
Tickets to this great event are available on Eventbrite below! #bridetobe2109 #destaffordbridal #ConfettiLive.
Click here to Book Online Via EventBrite
To Enter the Online Draw Please click here
The following collections will be on display:
Click on each image for a closer look.
Related Dress Collections